About Us
Shenyang LostFound (SYLF) Internet Information Consulting Service Co., Ltd.(沈阳寻么网络信息咨询服务有限公司)
寻么网是落户在沈阳的美国公司,其目的是鼓励本地文化创新,让世界了解沈阳,让沈阳走向世界。我们通过APP (手机软件), SYLF网站,DM杂志,微信、微博、脸谱网等国际性社交媒体进行传播,使全球目标人群关注寻么平台和我们合作品牌。
我们的使命:让世界走进沈阳,沈阳走向世界!
没有谁像寻么沈阳这样了解这个城市,因为我们生活在这里,经历着城市的发展和变化,我们能够清晰的洞见其发展的内在规律。如果您想知道关于餐饮、景点、 艺术、文化、购物和夜生活的资讯,您可以登陆寻么沈阳— 一个世界级的数字平台,优质的服务内容,连接品牌与本地商家的资讯平台。
Shenyang Lostnfound is a Consulting Company with many exciting projects in the US and China. We have created shenyanglostnfound.com to inspires and enables people to make the most of Shenyang and greater northeast, China. Operating in WeChat, Weibo, Facebook, Website, and mobile application, it has a global audience across all continents.
Mission: We bring the world to Shenyang, and Shenyang to the world!
No one knows this region like Lostnfound Shenyang because we live and grew with the city. If you want to know about food, attractions, art, culture, shopping, nightlife, jobs and business opportunities, then we are your companion to connects you and your business to the city.
Membership Benefits
Established in 2016, SYLF helps its members achieve their goals by providing a platform for them to interact with each other. Getting the brand in the right segment and market utilize the effective and general method of attracting customers.
品牌影响
SYLF在本地和国外与用户保持广泛和实质性的沟通关系。帮助他们发出自己的声音,改善商业环境。
在沈阳,我们的主要用户来自外国领馆,各国商业联盟,外企雇员及家人。几乎覆盖到沈阳所有的高端外籍人士。
我们的核心力,在于我们固有的客户群体,多种经营和商业大咖,电子音乐和太极拳,特色小镇和时尚街区,涉外医疗和自然养生疗法,我们涵盖了多种团体,关注不同类型的生活方式、技术和特殊兴趣。无论你属于哪个行业,SYLF都将成为你最好的合作伙伴。
Brand Influence 
SYLF prides itself on maintaining broad and substantial relations with the subscribers, both local and abroad. Many of our members find SYLF China to be the perfect platform through which to engage the various levels of the large international corporation and local businesses in China, helping them make their reach to the right market segment when it comes to improving the Brand Image.
The core of SYLF's activities is our interest groups. We have various groups and forums focusing on the different type of lifestyles and special interests that span from techno to Tai-chi.
Business Development
No matter which industry you're in, SYLF has your back.
•Matchmaking
•Member Promotional Events
•Scheduled Reports
•High-Profile Exposure to Significant Events
推广策划
会员促销活动
预定圆桌会议
重大事件高调曝光
SYLF Membership Services 
Photography
Advertisement
Content – Chinese English Content Building
Design –  Posters, Ads, Special bar cards
Hosting Event
Consulting
Recruitment/HR
会员要求
必须有实体店面或在线商业模式
具有品牌意识
面向本地和外国消费者
Membership Requirements 
Must have a storefront or online business model
Brand-focused
Caters to both the local and expat community
Become an SYLF Magazine post/magazine posting
媒体报道:
合作支持:
中德产业园:http://www.sygssc.com/LifeinShenyang.aspx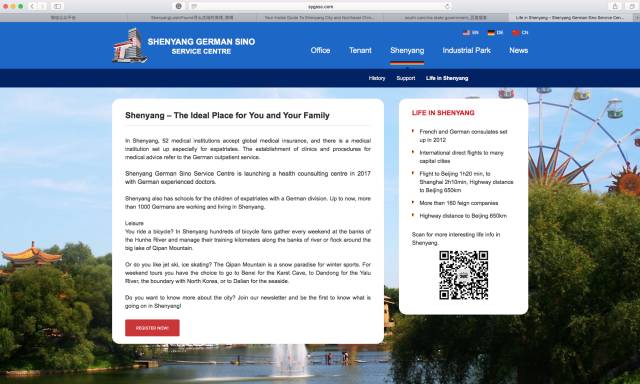 Current Partners 

Shenyang German Sino Service Center
Peking University Northeast Alumni Association
作为重要的SYLF合作伙伴,您将通过这个平台,和当地外国人成为商业联盟的一部分。沈阳还在发展建设中,他是一个不断增长的城市,让我们为美好的未来,建设一个更好的沈阳一同努力。

Long-term Partnership:

As a valued SYLF partner, you are part of a business alliance with first-hand information within the expat and the local community. You are not alone in Shenyang. It is a growing community, let's plan and build for a better future, a better Shenyang.
-Kevin Meng, Founder SYLF