May 20 INTL' CULTURAL FIESTA IV @Shenyang Aerospace University
Shenyang Aerospace University International Student Union
Presents:
INTERNATIONAL CULTURAL FIESTA IV
You hear the sound of unification, laughter and drum rhythm that makes you move to the beat, aroma of delicious food of different cuisines from all around the globe. Drawn with curiosity you reach a place, people from different races, wearing astonishing clothes you have never seen before, you try to listen to what they are talking about, you thought at first you don't know what their language is, but you realize it's the language of love, Surprised? Don't be, you are right where you are supposed to be, We WELCOME you all to the "INTERNATIONAL CULTURAL FIESTA IV".
After last year's success, one of the biggest events in Shenyang is BACK in town!
Time travel still in your bucket list but here is an alternative to travel around the world in no time at INTERNATIONAL CULTURAL FIESTA IV.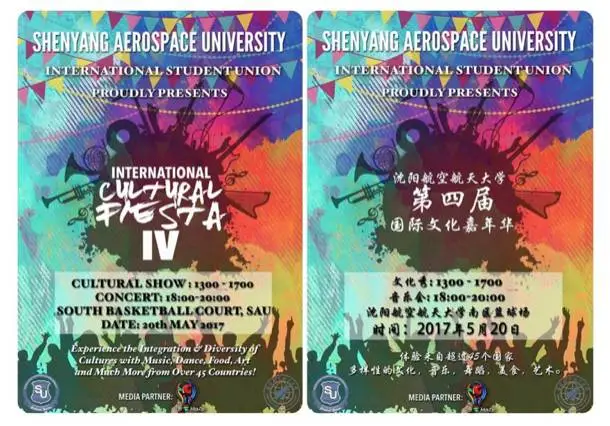 Last year International Students Union of Shenyang Aerospace University successfully organized INTERNATIONAL CULTURE FIESTA III, as it fulfilled its aim of integrating cultures,  enhancing traditional awareness and exchange in addition to entertaining the crowd. People from all walks of life and different parts of Shenyang and even from other cities came to attend this event. Every year the Cultural Fiesta promises to be bigger and better, and hence this year'sINTERNATIONAL CULTURAL FIESTA IV expect something very spectacular on this Saturday 20th May, We have some mind-blowing surprises in store for you. So make your weekend free , mark 20th of may on your calendar , put a reminder on your smartphone , tell a friend to tell a friend that this is the place to be this weekend, as you don't want to miss the chance to feel and live in the festive vibe , plus with lots of entertainment planned out for you to have an amusing time that you will never forget.
Bring your friends, schoolmates, workmates and family, for a bonding and relaxing time among yourselves and between them and the whole world. Take selfies and pictures on the red carpet, with different cultural stalls and people wearing different attires to share on your social media to make your profile look diverse! Get a chance to take part in exciting games and free lucky draws to win amazing gifts and prizes!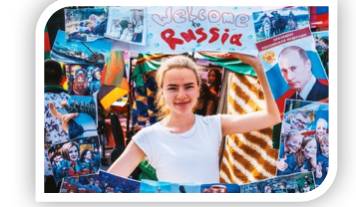 On this very day, diverse cultures are going to be exhibited, each country will recreate of how their cultures are, by displaying their traditional attire, native music, dance performances and something that we all love the most FOOD, with so much more. Based on the things written here it does not even cover the much of which the fiesta offers, you have to be there to feel and witness as the magic happens, this particular year the fiesta is planned to be extraordinary.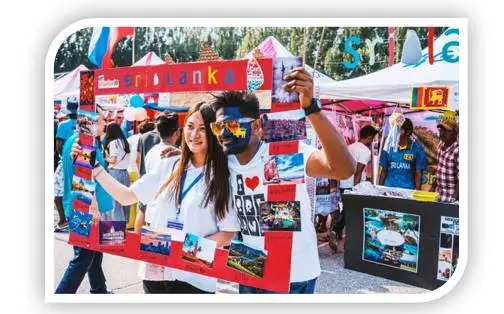 But the DAY doesn't end with only this, the entertainment and amusement transfers from a lovely day into a lively night where the after party begins, THE CONCERT will take place as you will witness awe-inspiring performances of different genres such as Singing, Dance, Magic and much more!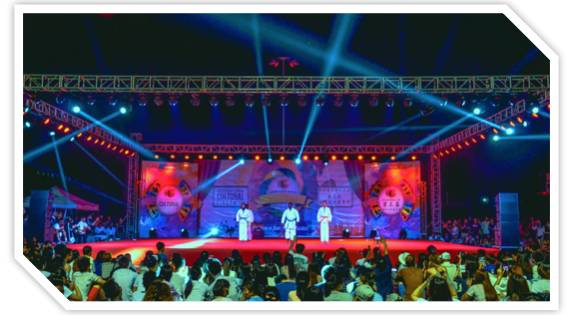 So don't forget, we are sure you don't want to miss this, SHENYANG AEROSPACE UNIVERSITY is the place to be on 20th MAY, we await for your gracious presence and warmly welcome you to "International Cultural Fiesta IV", see you soon!
---
International Cultural Fiesta IV
沈阳航空航天大学第四届国际文化嘉年华
Date | 活动时间: 20th May 2017, 1:00 pm
2017年5月20日上午1:00 下午
Venue | 活动地点:South Basketball ground, Near Friendship Villa
南篮球场,近友谊别墅
---
List of Countries Participating :
Arabia
Bahrain
Egypt
Jordan
Kuwait
Lebanon
Morocco
Palestine
Qatar
Saudi Arabia
Sudan
Syria
Tunisia
United Arab emirates
Bahamas
Bangladesh
Bhutan
Cambodia
Cameroon
D.R.Congo
Djibouti
Equatorial guinea
Ethiopia
Ghana
Guinean Bissau
India
Indonesia
Kazakhstan
Kenya
Mauritius
Mozambique
Namibia
Nigeria
Pakistan
Papua new guinea
Russia
Rwanda
Somalia
South Korea
Sri Lanka
Tanzania
Uganda
Vietnam
Yemen
Zambia

Zimbabwe